4500+ words of guesswork (and, of course, hard work) is *still* not copy.
Long strings of texts and attractive call-to-action buttons are not enough to make your ideal clients pay happily for what you offer. 
You need more — and that is taking a connection approach to communicating the right message to your audience.
This happened: You had a reflective moment and discovered it's about time you shared your expertise with a world waiting for you. 
But with millions of businesses all over the place, you're beginning to get cold feet about marketing your business.
With all the passion your big idea came with? No, don't pause now.
Business doesn't have to be boring — seriously. Your bank account need not be empty. "Sales" does not have to sound like the title of the latest horror movie on Netflix.
With the right and authentic brand messaging, you can:
Attract your ideal audience 

Have your phone chiming with non-stop sales notification

Impact the world

Enjoy your business and life
Ever wanted that "oh so human" message that speaks your brand truth? An emotion-infused brand story you can share with the right people to give them the assurance that you feel and can help them?
That's what I can help you achieve.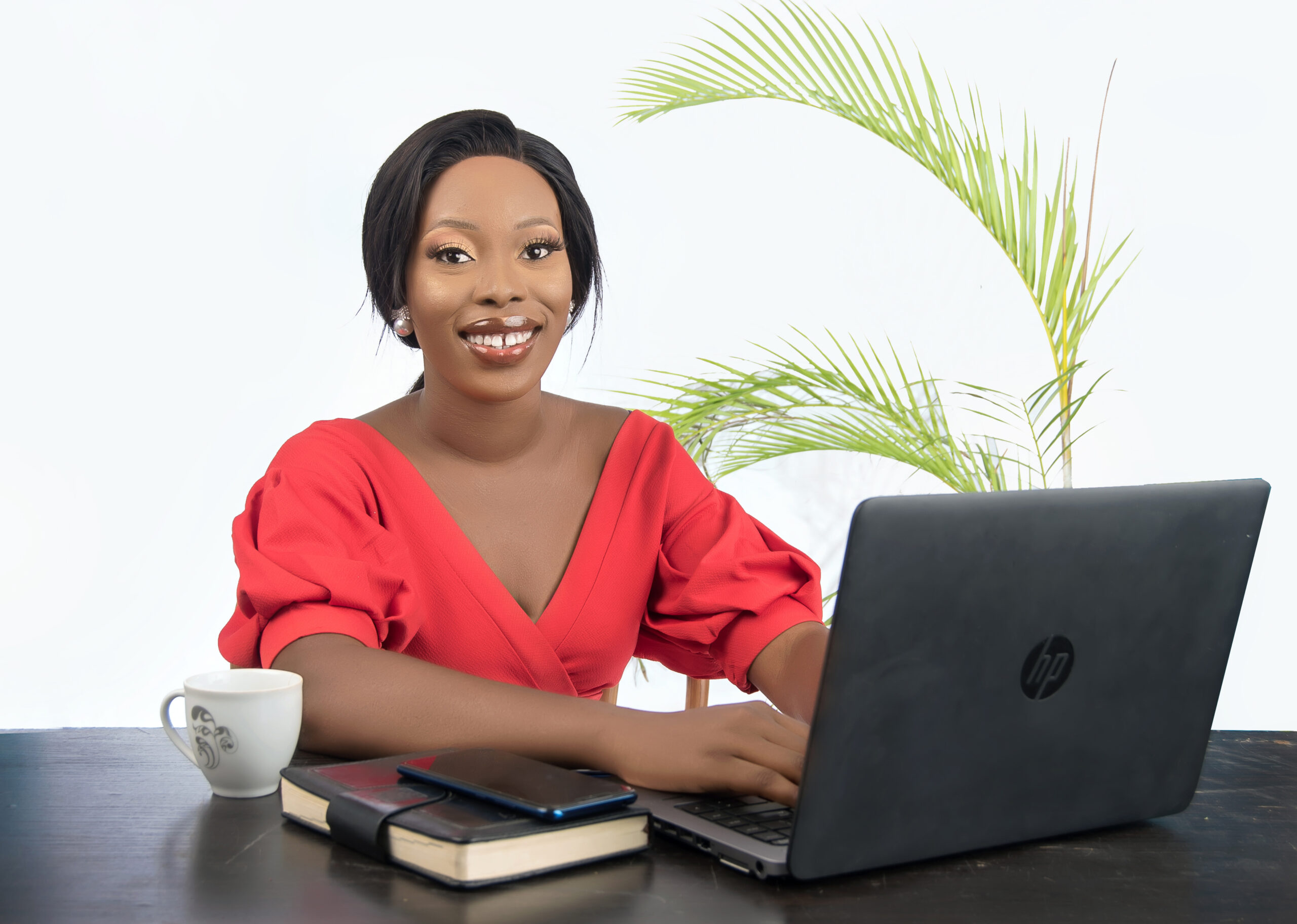 I'm Sally Ofuonyebi, and here are some of the other things I am:
A website copywriter, launch strategist, and friggin' perfectionista obsessed with helping female-owned businesses stand out with words that connect and convert.

A lover of God and a believer of His words. 
What I do is — help you tighten your brand voice and core messaging sp that you can tell your brand story with confidence, make sales and build authority in your niche.
With my experience as an SEO Writer & Content Strategist and my natural interest in Psychology, I follow a holistic copywriting approach to craft cohesive, connecting website and launch copy that speak to target audiences.
Storytime: I wasn't always a Copywriter…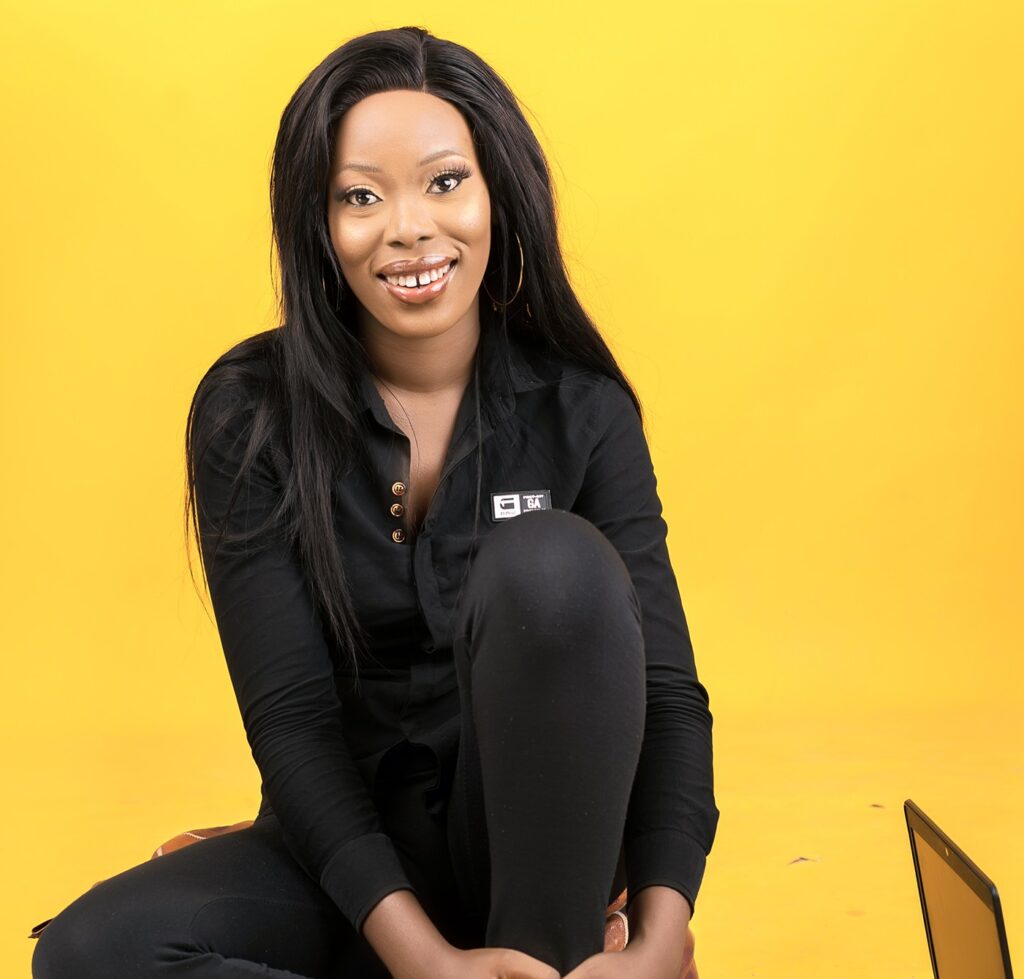 Growing up, I really didn't know who I wanted to become. I mean, I could argue a case in court and win even without being a certified lawyer (now, this is a joke, but I'm a born arguer), had an unrestrained love for psychology, and have been writing (mostly poems) since I was what… 5 years old? 
But, I somehow drove my study path to the sciences. After 4 years of dedication to studying Plant Science and Biotechnology, I graduated as the best student in my department (well, I'm a Type-Aer). 
I had my life planned out in school. I was gon' own a big laboratory — and be "the" biotechnologist. I just wasn't sure if I would actually stay inside the lab or probably die first. Laboratories always made me feel sick. 
After school, I decided I wasn't ready for a life of laboratory functions. I searched for online jobs without success and started applying to corporate jobs I never saw myself doing in the twenty-something-plus years I've lived. 
One thing became clear as I saw my ever-performing self still unemployed and rolling in an unending list of debt day in, day out.
The one thing? In the affairs of life, one plus one sometimes doesn't equal two. That period was the toughest I've ever lived. I suffered from chronic depression as I lived alone with all my life's worries – debt, joblessness, purposelessness, belief and family crisis.
After recovery, I ventured into baking and learned about marketing, prompt delivery, and giving people exactly what they want — I mean recipe-wise with their cake and snack orders — and it was fun.
However, it wasn't what I wanted to do, so I left baking, took on freelancing full-time, and dug my way into writing. I started with content and drifted into copywriting along the line helping B2Bs, agencies, and small businesses with their content and sales.
As an experienced copywriter who has worked with various industries and business sizes, I realized that creatives have more need for cohesive brand messaging that gets their messages out to the right people and maximizes their sales.
I began to figure out how I can help female entrepreneurs leverage their brand story to grow their income and transform their audiences' lives.
I use a holistic approach — taking in every detail of your brand story and experience — to create conversion copy that communicates your unique message to the right audience.
Copy-done-right is the perfect date between you and your audience
Shine your light brightly that men may glorify your heavenly father
Don't fade in and out on the edge of paradise,
when you can live there forever
Be positive and bright like the sunflower
If you love life, find a way to live it
Focus on good vibes only
Work hard, rest well
7 "Not-Hush" Facts About Sally
My surname "Ofuonyebi" is pronounced "Oh-phone-yay-be."
My full  native name is Boluwatife Salvation Ofuonyebi. But hey! you can just call me "Sally."
Shhh! Don't tell anyone… I love sunflowers, maybe as much as I love humans.
My best pictures are always on days when I wear black. Black might just be my perfect match made in color heavens, I dunno.
My favorite scripture is Isaiah 49 vs. 16 (Amplified Bible) "Behold, I have indelibly imprinted you on the palm of each of My hands; Oh Zion, your walls are continually before Me."
I wanted to be a lawyer. Then again, I went to Sciences 'cause I wanted to become a doctor. But, I ended up studying Plant Science and Biotechnology. Now, I'm your new copy bestie.
This might sound crazy, but— I dance to pop music to relieve stress and tiredness. Ha-ha
The Smoother-than-butter Copy Process in 1, 2,3...
You'll fill out a short form to see if we're a good fit. You'll answer a questionnaire, after which we'll hop on a call. We'll iron out your brand mission, services/products, and unique selling point during this call.
I get in my writing mode to craft emotion-infused, conversion-driven copy in a Google Docs file and brand guide as a PDF deliverable. Then, we'll work through due rounds of revisions. At this time, if you are feeling like the wonder woman with new magical ideas, send them over already!
You'll receive the draft copy and work through due rounds of fierce revisions. The final draft copy will be ready with framework direction for your website designer.
I can also work directly with your designer to plug your copy in the perfect places on your website.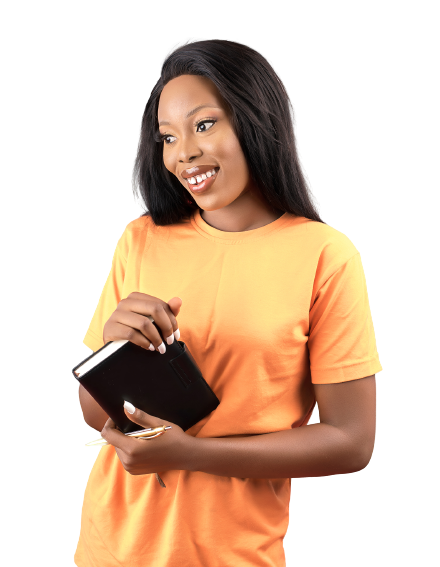 Unlike the last time that…
You were staring at a blank page on your screen struggling to come up with a conversion-focused message aimed at selling your offer to the ideal audience.
After a prolonged period of frustration and uneasiness seeing your big idea all over the place, you decided to take a longgggg break.
Now imagine that…
You can announce your offer to those who need it and they go "ooh, she feels me," "gosh, I need to get this" while reading your emotion-infused brand message.
Imagine that you give a happy dance (champagne in hand), with all the confidence in the world as you celebrate a successful launch. This imagination is the reality I propose.
What copy help do you need to uplevel your business?