Want to learn how to stay productive when working from home? Here are the top 10 work from home productivity tips you need to know.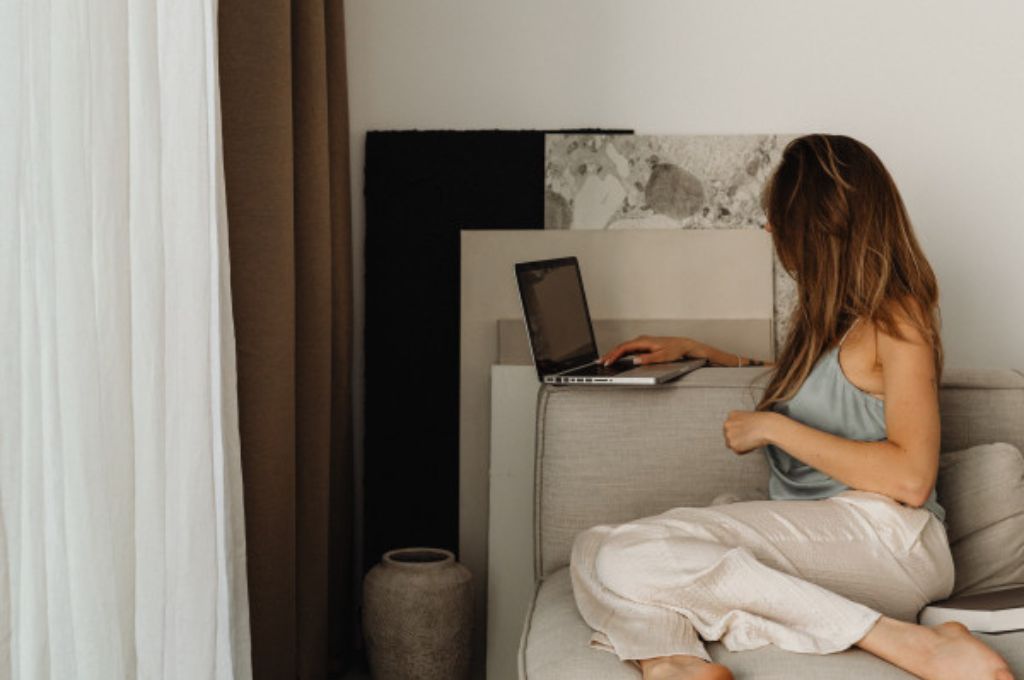 Working from home is one of the most exciting things until…
It's 9:45 am, and you're still in your cozy bed, roaming the streets of Instagram in search of some divine work motivation. And by the time you snap out of the scrolling spell, it's 3 o'clock in the afternoon.
Where did the time go, right?
If you struggle with staying productive when working from home, this guide is just for you. You'll discover the top 10 work-from-home productivity tips for making the most out of your day as an entrepreneur.
How to stay productive when working from home
Set your goals up for eyeballing
Create a work schedule
Build a home office
Start your day early
Begin with a productivity trigger
Write down daily goals
Set ground rules for work
Take a lot of breaks
Start with "bigger," not "harder" tasks
Dress for work
Being productive when working from home is totally possible. These are 10 tried-and-true tips to keep you productive as a work-from-home entrepreneur.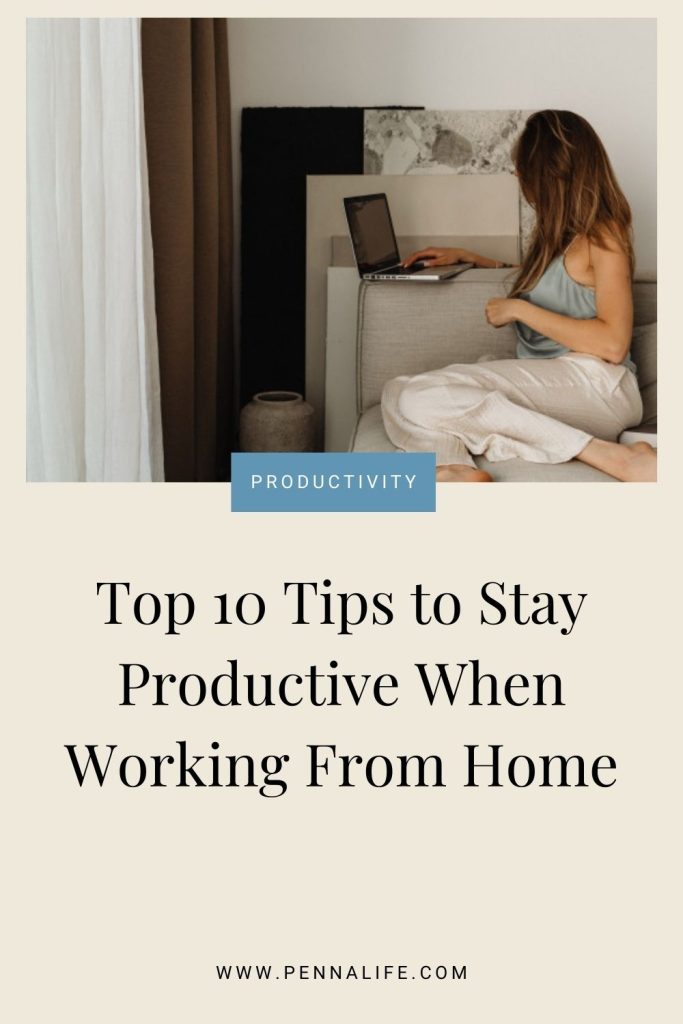 1. Put your goals up for eyeing
This is the number one tip for staying focused when you work from home. Setting your goals (and putting them in a visible spot) is the first tip to become inspired to work. 
You can do this by creating a big vision board. Place it in your workspace where you can be constantly reminded of your goals. It will serve as daily motivation.
Every time I see my vision board, I feel this influx of energy pass through me and this gets me pumped about getting to work, so I can achieve these goals.
2. Create a work schedule
Learn to separate work from your personal life. As a work-from-home entrepreneur, it can be messy balancing work, family, and life. This is why you need a work schedule.
A work schedule allows you to draw a line between your personal and business affairs. It highlights your work period and the tasks you have, and also when you should retire for the day.
3. Build a home office
Building a home office helps to stay productive as a WFH entrepreneur. Essentially, you create a replica of an office at home. I know from experience and research that you'll become more committed to crushing your goals if you do it from a desk rather than a bed.
A home office enhances productivity by creating the aura of a real office. You enter to start the day's work, and you leave once it's closing time. 
So, instead of sprawling out on the couch or working from your bed, move to your home office. Just sitting in an office chair tucked underneath your work desk with your vision board staring right back at you will energize you for productivity.
4. Start your day early
One of the secrets to being productive when you work from home is to wake up early—even if you're not an early bird.
I used to be up working till the early hours of the morning (3 a.m. or thereabouts) and wake up by 9. How far could I go?
Not very (you guessed right). I thought the more time I spent working, the better my output and results would be, but I was wrong.
Now, I go to sleep at 10:30 p.m. and wake up at 6:00 a.m. I get enough sleep and wake up early enough for my 2-hour work productivity sprint before easing into my day. So, find an "early enough" time that works for you too.
5. Begin with a productivity trigger
Productivity triggers are activities you do to boost your energy and morale. So, including one or two productivity triggers in your morning routine will motivate you to work.
This trigger can be yoga, meditation, listening to podcasts, journaling, dancing, exercising, or running.
When you start your day in a happy and energetic mood, you will accomplish tasks with more ease than when you do them without excitement or motivation.
6. Write down daily goals
A lot of times, even though you have your vision board hanging pretty in your workspace, you might still lack the motivation to work.
It's because your overall goals are big and need to be broken down into daily achievable tasks. Start by setting SMART goals, and from these, outline your daily goals. You might not know what to do first if you're trying to achieve your monthly, quarterly, or yearly goals at once. 
But once you break down your big goals into weekly and daily action steps, you'll find ease to accomplish them.
7. Set ground rules for work
If you don't set ground rules, distractions will not let you achieve any goals at all.
Working from home is fun and sweet—until all the noise, notifications, emails, and Netflix intro sounds begin to gulp down your time.
This is why you need to set boundaries and stick to them. Know when to play and when to focus on work. Also, practicing self-discipline is necessary for keeping these boundaries and staying productive when you work from home.
8. Take a lot of breaks
Taking breaks is one simple way to pamper yourself and relieve stress at work. It's okay to get out of your chair sometimes. Take a stroll, prepare lunch, and stretch your back. Just do something to take your eyes off the screen for a little bit.
You're doing your best to grow your business, don't get stressed while at it. During your break, you can take an afternoon shower if you feel hot. It's one of the perks that come with being a work-from-home entrepreneur.
9. Start with "bigger," not "harder" tasks
That time of the morning, when you feel all fresh and energetic, is the best time to take on bigger tasks. Not harder, but bigger tasks.
Bigger tasks are activities that require creating a lot of things. You can complete them if you dedicate more time, attention, and energy to them. Hard tasks, on the other hand, are simply what they are. They require more than your time and energy. You need a higher degree of critical thinking and problem-solving ability. Most times, hard tasks are not within your zone of genius.
For example: As a blogger, my to-do list can look like (1) completing a draft, (2) replying to DMs, and (3)adding canonical parameters to my blog on the backend.
Of these three tasks, finishing a draft is the biggest because it involves writing, reviewing, editing, and graphics inclusion. The hard task here would be adding canonical parameters to my blog since I know nothing about it. I'd have to watch a couple of YouTube videos and read some tech blogs to ensure I do this correctly and this can exhaust the most productive hours of my day in addition to a headache.
But starting with the bigger task will ensure you get more done.
10. Dress for work
This probably isn't one of the points you expected, but it is solid and effective. Clothing?! Well, yes.
Dressing up for your work-from-home business makes you feel as though you're in a real workplace and thus, inspires productivity.
Your dress code doesn't have to be as serious as a suit or heels. Just wear comfortable clothes that will put you in work mode. The most important thing is that your clothing makes you work-ready. And if PJs do this for you, do your thang. *winks*
Final thoughts: Top 10 work from home productivity tips
You can be productive as a work-from-home entrepreneur. With these tips above, you'll be able to focus on work, keep distractions at bay, and get more done during the day.
Be kind to yourself while trying to improve productivity. It takes time and consistent practice. Take things nice and slow. And ultimately, find a work rhythm that works for you.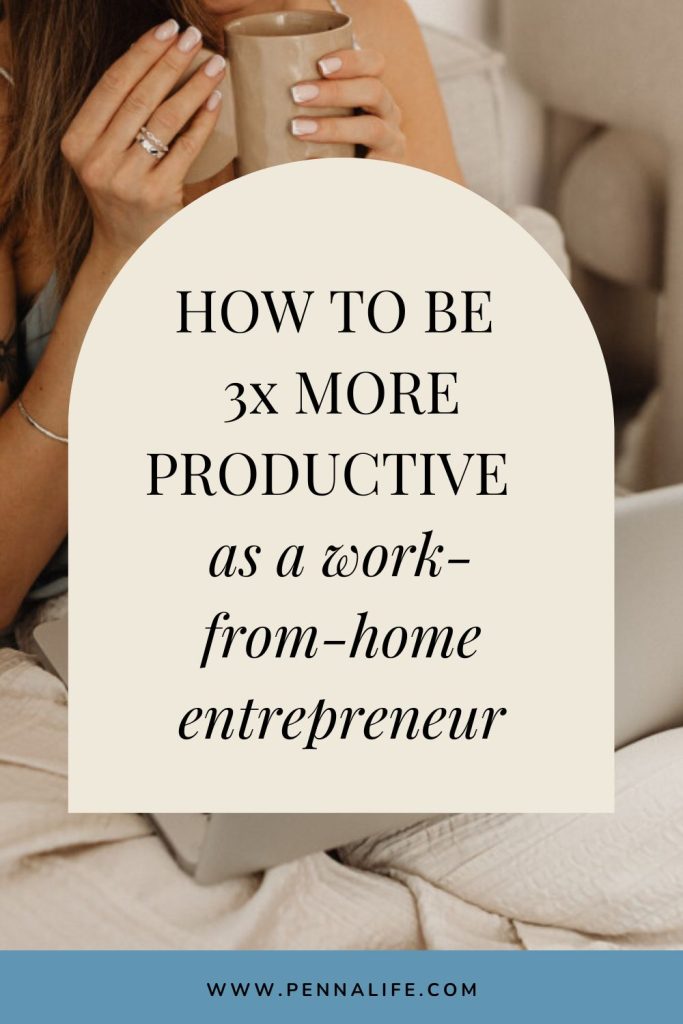 ---
Share this post with your friends!