Are you ready to unlock your superpowers? Here are 89 powerful daily affirmations for women.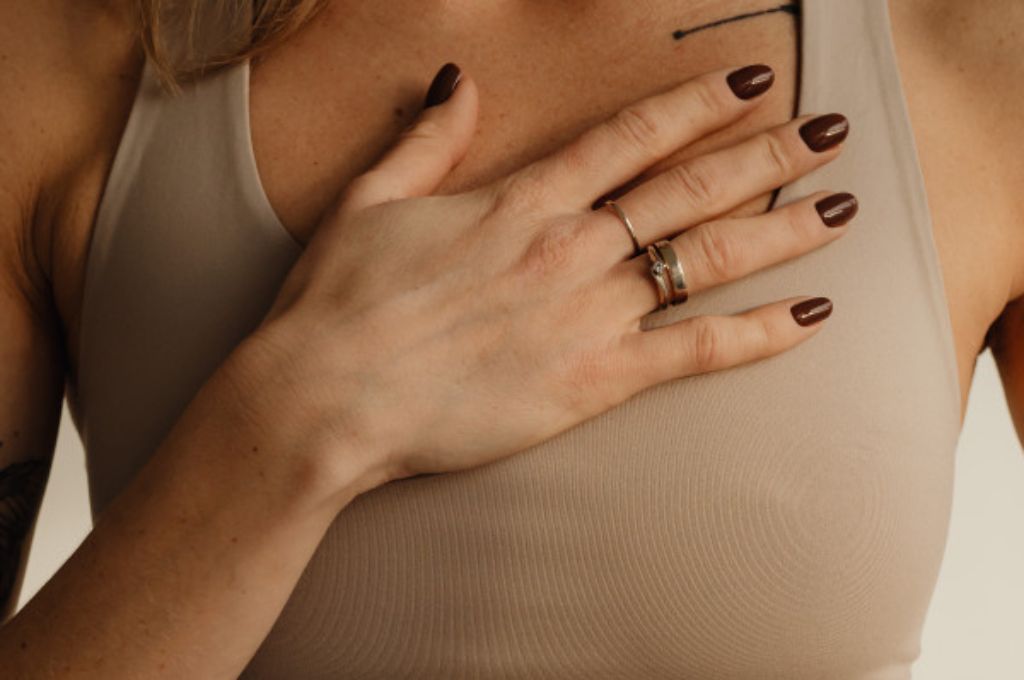 Imagine waking up every morning feeling so empowered, knowing you can take on the world. That feeling—that you're strong and capable of achieving anything—is the product of all the positive words ingrained in your thoughts, beliefs, and speech.
Sounds incredible, right?
In this guide, you'll discover 89 powerful daily affirmations for women that'll unlock your true potential and transform your life in ways you never thought possible. These positive affirmations will improve your self-confidence, feminine energy, and morning productivity. Let's get into it!
What are positive affirmations for women?
Positive affirmations are affirmative statements designed to encourage a positive and empowering mindset. They have the power to help you overcome self-doubt, limiting beliefs, and negative thoughts.
When you repeat these affirmations consistently, something interesting happens. Your subconscious begins to believe these statements to be your reality. As humans, our brain does not know what is true or false except for what we feed it.
Positive affirmations rewire your thought patterns and help you develop a self-affirming outlook on life. Now that you know what they are, let's talk more about how they work their magic in our lives.
What happens if you say affirmations every day?
My sister was teaching me how to say "congratulations" in the Korean language. She said "Chu-ka-e-yo" while smiling. And when I asked why she was smiling, she looked lost.
This experience taught me that positive affirmations are not random blah blah. They convince your subconscious of what you believe and say. The subconscious mind knows not what is true or false, except what you feed it.
When you say positive affirmations daily, you teach your brain to take these statements as facts. And as you begin to believe you can do something, your actions often follow.
Also, regular repetition of powerful affirmations improves mental and emotional health. By shifting your mindset to a positive one, you empower your beliefs and dismiss self-limiting thoughts. This rewiring process can boost your self-confidence, reduce anxiety, and create a greater sense of inner peace.
By regularly affirming your worth, abilities, and potential, you send a clear message to yourselves and the entire universe that you are deserving of success, happiness, and fulfillment.
Daily positive affirmations for women
Here are some daily positive affirmations to embrace your strengths and propel yourself toward a life filled with abundance, success, and self-empowerment.
I believe in my limitless potential.
I embrace my uniqueness and vulnerabilities
I am grateful for every breath I take and the future that lies ahead.
I deserve success and happiness in all areas of life.
I trust my intuition and make choices that empower me.
I have what I need to pursue my dreams and aspirations.
I bounce back from setbacks and use them as stepping stones for prosperity.
I have the power to reach my goals.
I am confident in my abilities
I attract abundance into my life and business
I radiate and attract positive vibes
My interests, thoughts, and opinions are valid and relevant
I trust in my intuition and journey.
I let go of self-doubt, and embrace my inner strength.
Prosperity, success, and wealth flow to me easily
I am in control of my thoughts
I have the power to create my reality.
I deserve great care and therefore, prioritize my well-being without guilt.
I am open to new opportunities
I celebrate my achievements and the ones to come
I am beautiful—inside and out.
My relationships will be peaceful and loving.
I acknowledge my progress.
I am capable of overcoming challenges.
Anything I want is possible.
I am strong and empowered—and therefore, no hurdle can bring me down.
I am a source of inspiration and positivity for others.
I believe in myself and the power of my touch
I am grateful for the present moment.
I release negativity from my life.
I am deserving of success, and I pursue my passions fearlessly.
I am a magnet, I attract prosperity in all areas.
I believe in my potential without hesitation.
I deserve kindness
I am in charge of my happiness
I choose to find joy in every day.
I am a strong, empowered woman, and I make a positive impact on the world around me.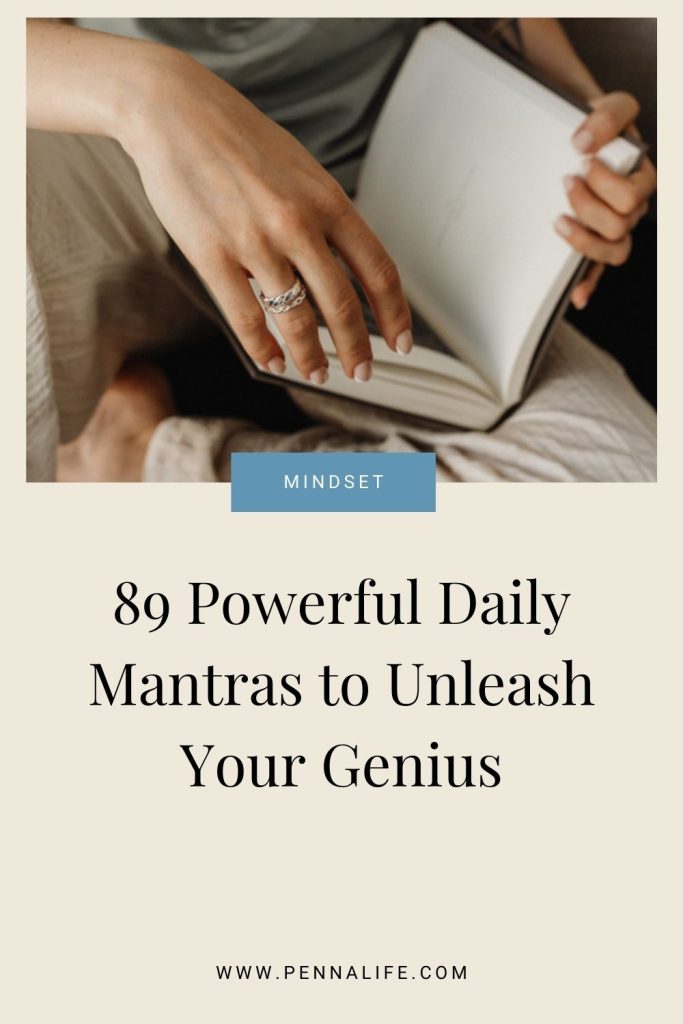 Girl power affirmations for feminine energy
As women, our feminine energy is a source of strength, intuition, and creativity. By embracing it, you open the gate to channeling your inner power. These daily affirmations are designed to awaken and revitalize your feminine spirit, so you can thrive as you are.
I embrace my feminine power every day.
I am in tune with the rhythms of my body.
The universe conspires to work in my favor because I am who I am.
My intuition leads me to make wise decisions.
I radiate love, compassion, and healing energy
I trust in the flow of life and the cycle of nature.
I am open to receiving love, support, and abundance from the universe.
I embrace my sensuality and express my truest myself.
I create a space of authenticity and harmony in my corner.
I build meaningful relationships.
I honor my emotions and allow them to guide me toward growth.
I spread positive energy to those around me.
I am a supportive presence in the lives of others.
I find strength in vulnerability
I embrace my authentic self—my genius, flaws and all.
I attract grace through my feminine energy.
I am a creative force the world can't wait to reckon with.
I manifest my dreams with grace and ease.
I embrace the power of collaboration and connection.
I take care of myself as a gift to both my body and spirit.
I am a channel of love and inspiration, for myself and others.
Opportunities aligned with my purpose flow to me easily.
Good things begin to unfold for me naturally.
I find strength in being soft and empowerment in vulnerability.
I acknowledge my worthiness as a woman
I ignite passion and creativity in the people around me.
I honor the cycles of rest and productivity in alignment with my energy.
I am a radiant embodiment of feminine energy, impacting the world with love.
"I am" affirmations
These affirmations will help you embody your dream self so you can attract blessings that align with you.
I am enough, just as I am
I am capable of overcoming any obstacle that comes my way.
I am worthy of success in all aspects of my life.
I am in control of my own destiny
I am capable of making choices that align with my true desires.
I am deserving of true, long-lasting happiness
I choose to create a life filled with joy and fulfillment.
I am fearlessly stepping out of my comfort zone
I am resilient and can't be held back
I am worthy of everything good
I am confident in my skills and knowledge.
I am surrounded by positivity and abundance.
I am powerfully manifesting my dreams into reality
I am determined to put in the necessary to achieve my goals.
I am grateful for what I have and all that is yet to come.
I am a source of inspiration.
I am capable of achieving anything I set my mind to,
I am a leader and choose to create positive changes within myself and the world around me.
I am grateful for my journey
I am empowered to create the life I desire
I am capable of unleashing my true potential
I am a beacon of hope. I spread kindness wherever I go.
I am worthy of all good things that come my way
I am rewiring my mind for success.
Final thoughts: 89 Daily positive affirmations for women
Positive words have incredible power to enhance your confidence and achievements. These affirmations will serve as daily reminders of our worth, helping us navigate the challenges that come our way with confidence, grace, and resilience.
Each new morning, take a moment to memorize these affirmations. Let them become a part of your daily routine and watch yourself become "that girl" —your dream self.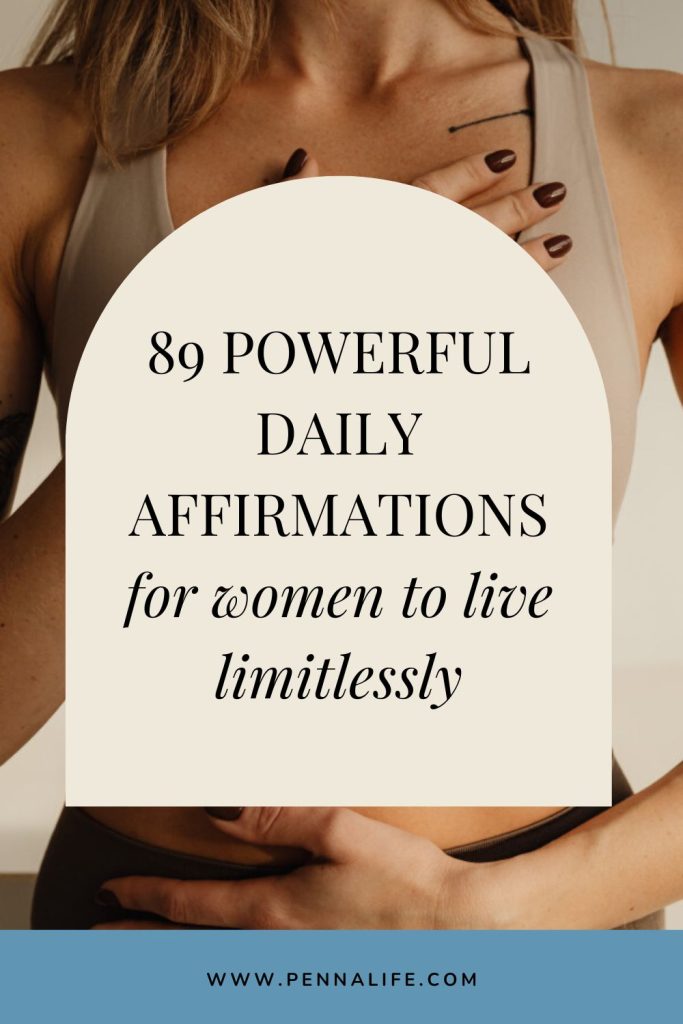 ---
Share this post with your friends!